The Importance Of Paint Color In Your Investment Property
When it comes to investment properties painting can be a great and easy way to give any room in your investment property a new look! At ACCL Property management we understand the importance of paint colors for tenants and what color is a great investment for landlords. Below we will go over the steps you should consider when picking a new paint color for your property.
Which paint color should you choose?
Color plays a big role in getting prospective renters to notice your property. It can attract people to your home or drive them away. Since paint comes in various types of colors, textures, sheens, and oils, you can see why the decision might be a hard one to make. Whether you choose to paint your rental unit yourself or hire a professional property management company for the job! The right paint color is critical for getting your property rented.
The property managers at ACCL Property Management, recommend keeping paint colors neutral. Shades of cream, gray, and beige always tend to work great in every house. By limiting colors that have dramatically dark or bright hues will help not scare off potential renters.  Although most property management companies will tell you to just paint all the walls in your rental property white, the reality is that you can make your rental more inviting by painting the walls different colors. Using primary colors or picking two shades in various styles of brightness is a great way to make a palette look more complex, giving your home a brighter and cleaner appearance.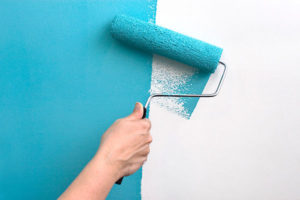 Selecting the right color:
Turning to the color wheel to make any paint decisions is great rule of thumb. Remember paint colors can change the appearance of any room and with a little planning you can achieve the feel or look you are looking for.  Primary colors (red, blue, and yellow) when combined will give you secondary colors (green, orange, purple). Colors like purple and blue that are analogous to each other will allow one color to stand out more. Complementary colors meaning colors that are opposite to each other on the color wheel such as red and green will give a color pop! If you are looking for a more soothing subtle look you should stick to one color shade for example the same shade of blue.  If you have a small room and want it to appear larger the colors blue, purple, and greens will do the trick. Cool colors like orange, red, and yellow will give you a more vibrant appearance.
Remember the reality is, tenants won't be bothered with painting your rental unit themselves due to added expenses and the work involved especially tenants that only plan on renting for about one to two years. Selecting the right paint color can be critical for tenant turnover. If you have walls that are vibrant orange or painted to dark your rental property will stay on the market longer then if you had neutral color walls.
GET YOUR RENTAL PROPERTY OFF THE MARKET TODAY! 
Are you struggling with choosing wall colors for your rental property?
Get the right advice and professional help from the ACCL Property Management.
Contact Us:
Durham Region Tel: 1(905) 432-8961
York Region Tel: 1(416) 619-5203
Peel Region Tel: 1(416) 619-9214
Toll free: 1(844) 651-2225
Fax: 1(905) 579-6688
Email: info@acclpropertymanagement.com
When you choose ACCL Property Management, you have the peace of mind, knowing that you have a trusted name in property management.