TOP 5 – Spring lawn maintenance tips
Spring has finally arrived! This means you will have to get your lawn cleared and cleaned from the leftover winter season. A long snowy winter with Cold temperatures, snow, ice, and freezing rain can leave your lawn with damages and blotchy areas. In this article the property managers from ACCL property management will go over the top 5 spring lawn care maintenance tips to help you get your lawn in the best shape!
1. Routine Lawnmower Maintenance:
Checking and maintaining your lawnmower is a great step into lawn care – after all no one enjoys going to cut the lawn and then realizing their lawnmower does not work. Replacing your last seasons lawn mowers oil and gas along with replacing the dirty air filter, and corroded spark plug will help ensure your lawnmower is in great working condition.
2. Prevent weeds:
Before the weather gets any warmer you should start using a preemergent herbicide to stop weed growth before they sprout. Proper lawn mowing, feeding, and irrigation are the best weed prevention tools – but established weed populations will require drastic measures.
If you notice your lawn is showing or has bare spots. Now is the time to fill them with seeds or sod in order to prevent weeds from sprouting and spreading to other areas. Even if you seem to have a weed-free lawn and notice one or two weeds remove them ASAP. One weed can lead to many more as their seeds travel quickly.

3. Thatch cleanup:
Thatch is that spongy layer of dead grass and weeds that builds up in your lawn. Typically, a thin layer or thatch is healthy and normal because it protects the soil, roots and other beneficial organisms.
Lawns that are excessively treated with herbicides and pesticides, along with lawns that have compacted soil or are acidic are at more risk for thatch development. If thatch begins to buildup and becomes about an inch tall. Weeds, drought and many other problems will develop.
4. Resod and Reseeding:
Are bald spots and dead grass on your lawn getting hard to ignore? Is it overrun with weeds?
If you have more dead grass, dirt patches and weeds than healthy grass, reseeding may be the best option! Or If you feel your lawn is beyond hope or repair, you can consider starting from scratch.
The property managers at Accl Property management suggest hiring a professional to get the job done right!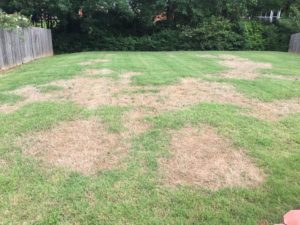 5. Starting the lawn season right:
A good lawn needs maintenance – by following the tips listed above your lawn should be in tip top shape in no time. Below are some pointers you should be doing at the start of the spring season
• If you're not already following a fertilizing schedule you should start one by following the directions on the product of your choice.
• Inspecting sprinklers and pipes for damages.
• Mowing your lawn more often/alternating directions.
Need a peace of mind?
Get the right advice and professional help from the ACCL Property Management team today.
Contact Us:
Durham Region Tel: 1(905) 579-6688
York Region Tel: 1(416) 619-5203
Peel Region Tel: 1(416) 619-9214
Toll free: 1(844) 651-2225
Fax: 1(905) 579-6688
Email: info@acclpropertymanagement.com
When you choose ACCL Property Management , you have the peace of mind, knowing that you have a trusted name in property management.