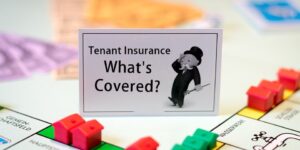 IS TENANT INSURANCE MANDATORY IN ONTARIO?
The simple answer to the question is no, Ontario does not require that all renters have tenant insurance. Often a landlord will require a tenant to obtain renters insurance as a condition in the lease. As you can see, there are so many benefits to having coverage even if it's not required! A common misconception is that if the damage is caused by another tenant in the building, the landlord or neighbour is required to pay the damage to your contents, however this is not true. If a neighbouring unit causes a fire or flood and subsequent damage to your personal property, without tenant insurance, you are responsible for repairing or replacing your belongings. On the other hand, if you are responsible for damage to the building and other units, you may be sued and expected to pay. Even if your landlord doesn't require tenant insurance, there are many benefits to having a policy for a very small cost.
WHAT IS TENANT INSURANCE?
Tenant insurance, also commonly called renter's insurance, can be compared in many ways to home insurance. The primary difference between tenant insurance and home insurance is that tenant insurance does not provide coverage for the actual building itself because it's the responsibility of the landlord who owns it. Rather, tenant insurance is tailored towards protecting your personal property within the rental property, liability and additional living expenses if you have to make a claim.
WHAT DOES TENANT INSURANCE COVER: LIABILITY
Personal Liability is a coverage designed to protect you legally if you accidentally injure someone, or they are hurt on your property. If you don't have tenant insurance, you are on the hook to pay for any damages and legal fees associated with a lawsuit against you. Tenant insurance provides peace of mind and financial protection for you if someone sues you due to injury. A basic policy will cover you for $1 million, and you can also increase your liability limit to $2 million.
WHAT DOES TENANT INSURANCE COVER: CONTENTS
Contents coverage can be purchased for a specific dollar amount to cover the cost of repairing or replacing household items in the event of a covered claim. This can include any of your belongings such as furniture, clothing, electronics, jewelry etc. The cost of items adds up quickly, so it's important to build a home inventory to get an accurate estimate of your personal property.
WHAT DOES TENANT INSURANCE COVER: ADDITIONAL LIVING EXPENSES
If you end up with a flood, fire, or other loss, it may render your home unlivable until repairs are complete. With tenant insurance, while they assist you in the cost of damage to your personal property, they also provide finances for living expenses associated with having to live elsewhere temporarily. Additional Living Expenses coverage will often include meals and a temporary rental or hotel while repairs are going on.
If you are looking to hire a Property Management company to manage your property then consider hiring ACCL Property Management. For free consultation, please email us at info@acclpropertymanagement.com or call us at 905-432-8961